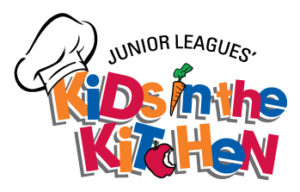 In February of 2006, Junior Leagues from across four countries implemented an international initiative called Junior Leagues'® Kids in the Kitchen, designed to help communities address the urgent issues surrounding childhood obesity and poor nutrition.
This year's Kids in the Kitchen projects benefited these organizations:
Oak Park Sol Community Garden
Girl Scout Badge Program
Nutrition Education and Gardening
During our monthly events, kids have been learning about the USDA nutrition guidelines MyPlate, preparing healthy snacks, Rethink Your Drink, kitchen safety, good hand hygiene, as well as how to bring food from garden to table.
Junior Leagues' Kids in the Kitchen is an ongoing awareness initiative for the Association of Junior Leagues International Inc.
If you would like to get involved or help with the Kids in the Kitchen program by being a guest chef, donating items, or for more information, please contact Wendy Green.