G.E.T. Loud: Girls Empowered Together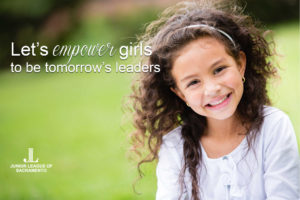 Junior League of Sacramento (JLS) utilizes an Issue Based Community Impact model, where we serve the needs of our region and create programming to address a need. Currently, the community programming focus of the Junior League of Sacramento is Empowering Girls. JLS uses a research-based approach to collaborate with organizations throughout Sacramento to build the self-esteem and confidence of young girls. Our signature event, G.E.T. Loud is hosted every March for girls in grades 5th to 8th and their parents.
G.E.T. Loud is a one-day empowerment event featuring seminars and workshops that empower girls, with tracks focused on confidence, collaboration, compassion, and imagination. G.E.T. Loud aims to break down barriers of access to programming, by including targeted attendance from girls in underserved neighborhoods.  Past events included a robotics lab, coding workshop, internet safety seminar, running club, community engagement seminar, basketball clinic, and an entrepreneurship discussion.