Board and Leadership Team
We are pleased to introduce the 2023-2024 Junior League of Sacramento Board of Directors and Management Team.  This dedicated group of women meets monthly throughout the year, providing governance oversight and strategic planning to the League. Members are selected through a Nominating Committee and our League year is June 1st through May 31st.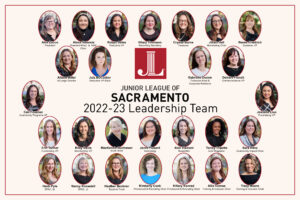 ---
Board of Directors
Alexa Valencia
President (2023-2025)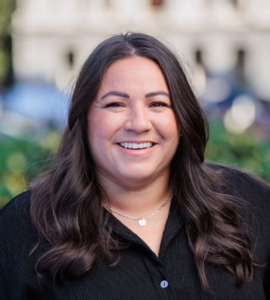 Alexa is serving as President for the 2023-2025 term. She has previously served as Executive Vice President on the Board of Directors. She joined the Junior League of Washington DC before moving back to Sacramento and transferring to the Junior League of Sacramento in 2018. Alexa has previously served as Executive Vice President, on the Training Committee and the State Public Affairs Committee (SPAC) and most recently as the Membership, Advising and Engagement Committee Chair. She has worked in government consulting and State government for the last 10 years, and is very passionate about investing in and helping individuals thrive in their communities. She lives in midtown.
---
Robyn Stiles
Executive Vice President (2022-2024)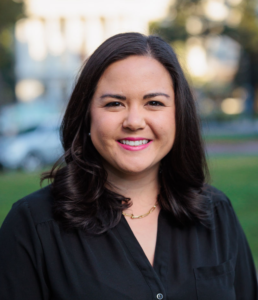 Robyn serves as the Executive Vice President on the Management Board. She joined the Junior League of Baton Rouge (Louisiana) in 2019 and transferred to Sacramento in 2020. Robyn previously served on the Impact SAC Committee. She holds a bachelor's degree from the University of California, Berkeley, a master's degree from the George Washington University, and a doctorate from Louisiana State University. She works as a management consultant specializing in public sector work and teaches as an adjunct professor at LSU. Robyn lives in Woodland with her dog, Rufus.
---
Riley Davis
Recording Secretary (2023-2025)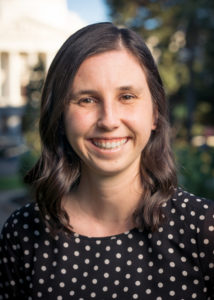 Riley is serving on the Board as Recording Secretary.  She joined the league in 2016 and has been a committee member on Provisional & Recruiting and Fund Development. Riley has also served as Membership VP and Chair to the Member Advisement and Placement Committee. She holds a degree in Human Development and Family Studies from the University of Nevada, Reno. She currently works for Sacramento State in University Advancement and has previously worked for the YMCA & Big Brothers Big Sisters in Youth Development.  Having grown up in Sacramento, she has always been very active in the community.
Giving back and volunteering have always been important to her and she is happy to continue volunteering in the Sacramento community through the Junior League.  Riley currently resides in Fair Oaks with her husband, Scott and their son, Jack and their Chocolate Labrador. In her spare time, you can find her watching a Giants game or hiking in Lake Tahoe with friends and family.
---
Gabrielle Dunne
Treasurer (2023-2024)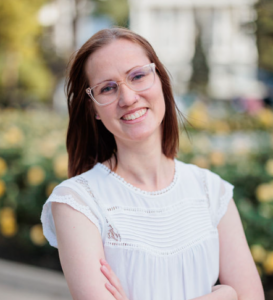 Gabrielle serves as the Treasurer on the Board of Directors. She joined the league in 2022. Gabrielle is originally from Ventura County and moved to Sacramento in 2018. She holds a B.A. from Cal State Channel Islands, and a M.S. in Research Administration and Compliance from the City University of New York. She currently works as a Research Administrator at UC Davis Health, managing a grant portfolio that supports intellectual and developmental disabilities research. Gabrielle lives in East Sacramento with her partner Jeff and labradoodle, Teddy.
---
Alison Miller
Nominating Chair (2023-2025)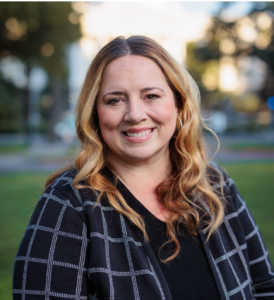 Alison is serving as Nominating Chair after serving as an At-Large Member on the Board of Directors from 2021 – 2023. She joined the league in 2009, and is currently a Sustainer. A majority of her time in the league has been spent in the Membership Council, serving as an advisor on the New Member Committee as well as the New Member Committee Chair. Born and raised in California, Alison has a bachelor's degree from CSU, Chico. Alison is an elementary school teacher, having just completed her tenth year of teaching. She enjoys a variety of hobbies, including traveling and singing with her acappella group.
---
Renee Friedrich
Sustainer Vice President (2022-2024)
Renee is serving as the Sustainer VP on the Board of Directors. She joined the League in 2008, and is currently a sustainer. The majority of her time in the League was spent in fundraising and on the board, eventually leading the League as the President during the 2015-2016 League year. Renee and her husband, Maic, own a real estate business and have helped hundreds of families throughout the Sacramento region buy, sell and invest in real estate. They have two sons, Dominik (20) and Alex (17). They love to travel and get back to Germany where Maic is from originally. When she isn't out with clients or doing work with the League or other organizations they donate time and money to, Renee loves to spend time at their property in Rescue, CA playing with Piper, their GoldenDoodle and entertaining friends and clients with great wine and food!
---
Erin Tanner
At-Large Director (2023-2025)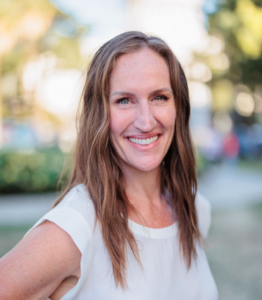 Erin is serving as At-Large Director. She joined the Junior League of Sacramento in 2015 when she moved to the area. She has served in leadership roles as the Fundraising VP,  the State Public Affairs and WE Rise Committees and as a member on the Nominating, Corporate Relations and State Public Affairs Committees. Erin is originally from Fallon, Nevada. She has bachelor's degrees in European Studies and Spanish from the University of Washington and a master's degree in International Commerce and Policy from George Mason University. She is on the Global Airlines Team for U.S. Bank and works remotely from East Sacramento where she resides.
---
Management Team
Allie Dumas
Executive Vice President-Elect (2023-2024)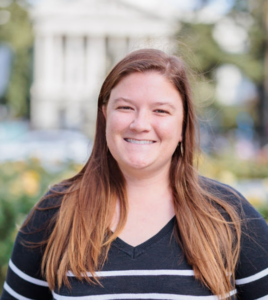 Allie is serving as the Executive Vice President-Elect and will be EVP for the 2024-25 League year. She has previously served as the Training and Inclusion Co-Chair on the Management team. She joined the Junior League of Sacramento in 2021, has a legacy of family members who have been a part of the larger AJLI (Association of Junior Leagues International) and exposed her to the great opportunities the League holds. She holds a Bachelor of Arts Degree from Kenyon College along with a Master's in Education from the University of Washington and is currently working in the nonprofit sector running environmental education and habitat restoration projects with high school students in California. In her free time, she enjoys checking out new areas, trying out new cooking recipes, and spending time with her friends from the League.
---
VACANT
Treasurer-Elect (2023-2024)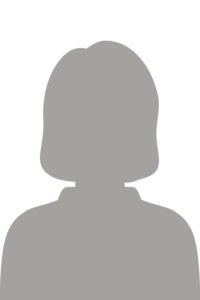 ---
Deirdre French
Communications VP (2022-2024)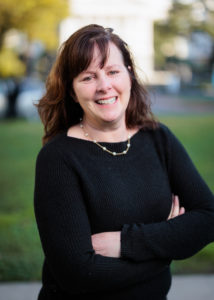 Deirdre is serving as the VP of Communications, a two-year leadership position, for the 2022-2024 League years. She previously chaired the Training and Inclusion committee for the 2021-2022 League year. Tired of Covid-19 social restrictions, she joined the Junior League of Sacramento in 2021 and quickly jumped into committee leadership. She was born and raised in Sacramento, and was always aware of the Junior League and its many contributions to her hometown. Her favorite League contribution is, without question, Fairytale Town! When her children were young, she and her kids spent many fun-filled hours making happy memories sliding down the park's twisty, old slides, enjoying all the kid-focused events and playing on the Crooked Mile. Deirdre has a bachelor's degree in organizational communication from Sac State and a master's degree in instructional technology from San Francisco State University. She lives in East Sacramento, with her husband Chris, where they are enjoying the freedom of having grown children.
---
Cait Fournier
Community Programs VP (2022-2024)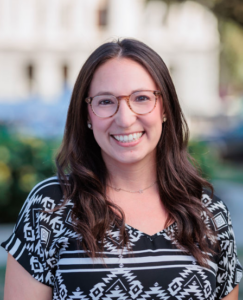 Cait joined Junior League of Sacramento in 2021, serving on the Provisional and Recruiting Committee and participating in the Ad Hoc committee for the league's focus area. She returned to her hometown after almost a decade in San Francisco, where she earned her Master's in Marriage in Family Therapy at Notre Dame de Namur University. Cait currently works for Sacramento County managing mental health services for individuals experiencing homelessness. Cait is also a trained art therapist, and her next big project will be a Little Free Art Gallery – a place for community to share small pieces of art. When she's not traveling to all 63 National Parks, Cait can be found embroidering, hiking with family, and watching Top Chef.
---
Mary Gaston
Fundraising VP (2023-2025)
Mary Gaston is serving as the Vice President of the Fundraising Council for 2023-2025. She transferred from the Junior League of Lafayette, Louisiana where she served on the Fundraising Committee and the Executive Board. She is a graduate of Loyola University, New Orleans with a Bachelor of Science in Communications and a minor in Math and English. She is a Sales Executive at PASCO Scientific where she sells education supplies and lab kits to promote STEM in science labs for the state of California, Nevada, Oregon, and Washington. She joined the Junior League of Sacramento in 2021. Since joining the Junior League of Sacramento, she has served on the Touch-A-Truck Committee and Co-Chair of the Fundraising Committee for the 80th Anniversary Gala. She is passionate about fundraising, and she plans to use the platform extended to her by the Junior League to display her fundraising skills and share that passion with other women who are also motivated to build relationships in the community and raise funds.
---
Hillary Konrad
Membership VP (2023-2025)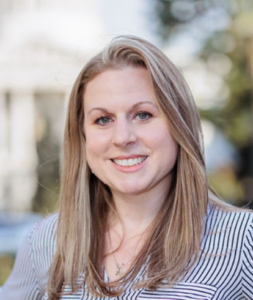 Hillary joined Junior League of Sacramento in 2018 and is partnering with Tracy Moore to lead the Membership Council. Previously, she served as the Provisional and Recruiting Chair, and as a member of the committee. She has also been on grant writing and SPAC. She has a passion for volunteering and making change in her community which is why the Junior League is a great fit for her. She has worked directly with children and families since 2006 in North Carolina, Missouri, and now California. Her desire in life is to transform the child welfare system and improve communities for children and families. She has worked for the Department of Social Services Office of Child Abuse Prevention since 2015. In 2022, she promoted to the Bureau Chief and is currently focused on implementing the Family First Prevention Services Act and an initiative to reform the mandated reporter system. In her spare time she loves to challenge herself with new back packing adventures, rafting and other outdoor activities. Her favorite part of Junior League is the solid connections she has formed with amazing passionate driven women.
---
Tracy Moore
Membership VP (2023-2025)
Tracy is serving on the Management team in partnership with Hillary Konrad as co-Membership VP.  Tracy joined the league in 2019 and served as a committee member on the Provisional & Recruiting Committee her first year as an active. The following year, she stepped up to chair this committee
growing engagement and new recruits during the global pandemic.
In 2021 Tracy continued to serve our league working on the Membership Advising & Engagement Committee and in 2022 stayed busy engaging members as the co-chair for the Training & Inclusion Committee.
Tracy is native to California and has lived in Sacramento 28 years. She works full time as a mental health therapist, is a wellness consultant for Arbonne International, and teaches community-based yoga classes downtown. Tracy has always been active in our community where she and her husband settled to raise their now grown boys. When Tracy is not volunteering or busy giving back to our community, you can find her cheering on her son, Malcolm, who plays baseball at Stanford University, or traveling to visit her oldest, Wilson in Boise, Idaho.
---
Staff
Christie Zuverink
Office Manager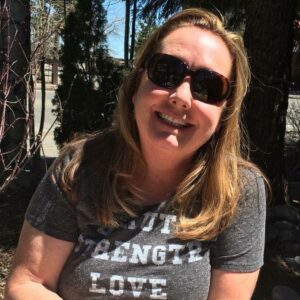 Christie started with the Junior League in 2007 as the Office Manager. In her life before JLS, she was a financial analyst. Born and raised in the Bay Area, she and her family made their move to Roseville in 2001.  She took a few years off to be a stay-at-home mom, volunteering in different capacities for her son's many sports' teams as well as serving on the PTC before coming to the League.
Volunteering and being of service have always been important to her. She has been a volunteer at Sutter Hospital, a prison literary volunteer, as well as an equine therapy volunteer. Recently she became a certified yoga teacher. She loves sports, mainly 49er football and Giants baseball. Her happy place is Lake Tahoe, hiking and enjoying a nice bottle of wine with friends and family.
For any Junior League of Sacramento questions, please contact our Office Manager at OfficeManager@jlsac.org