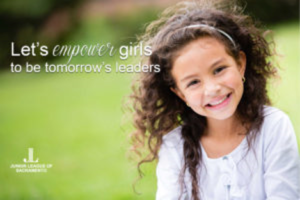 Junior League of Sacramento (JLS) utilizes an Issue Based Community Impact model, where we serve the needs of our region and create programming to address a need. Currently, the community programming focus of the Junior League of Sacramento is Empowering Girls. JLS uses a research-based approach to collaborate with organizations throughout Sacramento to build the self-esteem and confidence of young girls. Our signature event, G.E.T. Loud, is hosted every March for girls in grades five to eight and their parents.
G.E.T. Loud is a one-day empowerment event featuring seminars and workshops that empower girls, with tracks focused on confidence, collaboration, compassion, and imagination. G.E.T. Loud aims to break down barriers of access to programming, by including targeted attendance from girls underserved neighborhoods.
The next G.E.T. Loud will be held at the Arthur A. Benjamin Health Professions High School on March 28, 2020. If you are interested in partnering with the League to support this important event and supporting the empowerment of young girls in Sacramento all year long, please contact getloudsacramento@gmail.com.
If you know a young girl who you would like to participate in the 2020 G.E.T. Loud please register at https://www.jlsac.org/g-e-t-loud-2020/.